This XKE and I go back a long way. I saw my first XKE when I was in the third grade. That would have made it a very early 60's model. From then on, I knew that if I ever had the chance, it would be the car for me. When I was in my first year of college, I bought this XKE from the almost original owner. He had purchased it when it was less than a year old and had kept very nice records, even gasoline receipts. The car was in very nice shape with a new interior and a factory hardtop which had been stored most of its life so it was like new. To put it in perspective, I bought the car in 1973 when it was 10 years old for the top dollar of $1900.00. It was my second XKE as I had a 1966 2+2 which I ended up selling after getting the roadster.
   As I was living at home and commuting to college every day, the XKE was parked outside and was my everyday transportation rain or shine. School was 30 miles each way and I worked in the afternoons also. I probably put 80–100 thousand miles on the car over the next few years before getting a more practical car for everyday driving. Before the Jaguar, I had an Austin Healey, MGC, Morgan +4 and a VW bug. The XKE was pure luxury & performance after the other cars. Being on a student budget, I had to learn to work on the car and do whatever it needed. The combination worked as I was never late for a class or work.
My career has gone to working on Jaguars and in 1981, I went to work at what is now Coventry West where I am presently.
In 1985, Jaguar Cars wanted to celebrate their 50th anniversary with running a Jaguar across the in the Great American Race. John Steen had a 1935 SS1 which I prepared at Coventry West and off we went with full backing from Jaguar Cars. It was a really nice experience with a lot of nice older cars. I figured that if I could prepare a 1935 Jaguar to go across the country without any problems, I could certainly restore my own XKE to all of its former glory as everyday wear and tear had given it a beating.
Going into the job, I figured that I would have more in the car than it was worth. In the mid 80's, restored XKE's were only bringing $20,000 on the market tops. I was not going to restore it to sell so off I went to get started. The job was a complete learning process as I had never done body work or interior work professionally. The mechanical work was not a problem as that was what I was doing anyway. Everything had to be learned as I encountered it. I ended up getting a lead kit to do the seams. A mig welder was bought for the welding. Various metal working hammers and grinders were also sourced. At that time, information was rather sparse as to what was original. Fortunately the car was very original and I had not altered it so I just took a lot of pictures and put things back like they were. I have re-done a few things since I finished it but only as I found out that it was incorrect. It is really impressive how nice the XKE drives when it is correct and new. No squeaks or rattles and best of all, when you drive it, you don't see yourself coming and going down the road.
This car is the subject of the restoration CD that I have listed under restoration items.Below are some sample pictures. Just click on any of the pictures for a larger picture. I have been showing it in Southeastern shows in the JCNA in the C5 class and have been doing well with first in the SE in 2004, 2005, 2006 and 2008. In 2007, it placed 3rd nationally. . This is a very competitive class with a lot of very nice cars. The top 5 cars in the country are sometimes only separated by 1 point out of 1000 from 1st to 5th. I am also writing a book that will be on CD or DVD as it will have a lot of color pictures and information on all things XKE. It will cover the early 6 cylinders to the last V12 models. You are welcome to look at the chapters as I finish them. Feedback is needed and welcome. If there is information you need, let me know and I will try to put it in print before some of the others. See the section on XKE Book.
| | | | | |
| --- | --- | --- | --- | --- |
| Bonnet Underside | Door Before Panel | Engine Detailed | Engine Going Together | Finished Car |
| FloorBoards | Freshly Sprayed | Front Suspension | Just Painted | Just Starting |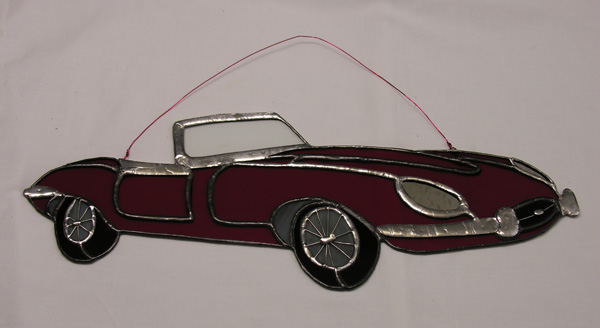 This is a Stained Glass piece modeled after my roadster. My wife, Mary Lee runs a Stained Glass shop
and made it for me. It is about 18" long and really neat looking. If you would like to see more of her work, visit her Web Site at www.GeorgiaCrafter.com